Intern (m/f/d)
in procurement/supply chain management consultancy
London
Fixed-Term
Full-time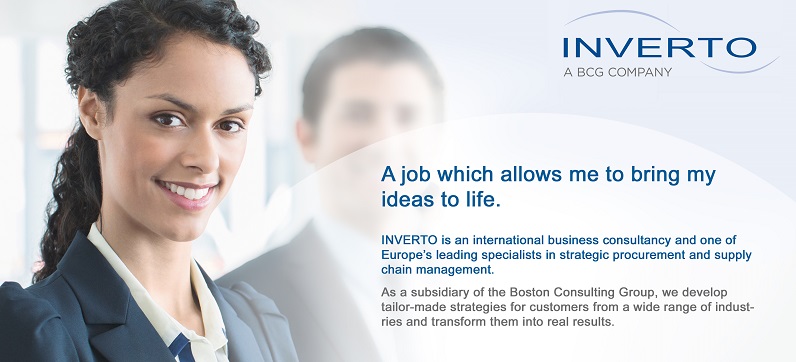 Introduction
Under the auspices of the Boston Consulting Group, we are planning a significant growth and internation-alisation program over the coming years. As part of this, we are looking to expand our team further.
Your opportunities
Challenging project work – as an intern you will support our project teams in analysing processes, procurement organisations and product group ranges. You will actively contribute to the development of appropriate strategies and measures to optimise the supply chain, as well as the strategic procurement process.
Diverse insights – as a result of our wide client portfolio and project assignments in the UK and abroad, the most diverse sectors and clients await you in our company: from start-ups, the retail and consumer goods sectors, to the energy and auto-motive industry, and the pharmaceutical and healthcare sectors.
Instructive experiences – in the project team you will be working closely together with our consultants. You will have a high level of individual responsibility from the outset: in this way, you will develop further professionally and personally.
Your profile
You are a student in an advanced semester of an economics degree and you can demonstrate above-average performance. You are particular-ly interested in subjects such as procurement, supply chain management or consulting.
During your degree you have broadened your theoretical knowledge through practical experience.
Analytical thinking, mobility, enthusiasm for new duties and an enjoyment of performance-oriented work are second nature to you.
You enjoy working in a team: in doing so, a down-to-earth attitude is just as important to you as genuine cohesion and mutual support.
A confident manner in an international working environment completes your profile, whereby you can also prove your communications skills in business level fluency in English.
Your benefits
Following an outstanding performance during the internship, we will offer you the opportunity to be included in our talent pool: stay in touch with us and use the opportunity for direct entry in the future.
Regular team evenings, as well as various employee and sporting events strengthen our cohesion.
Interested?